Amino Acids - codes, properties and chemical formulas
| | | | | | | | |
| --- | --- | --- | --- | --- | --- | --- | --- |
| Name | 3-let. | 1-let. | h/p/c | Vol | Propensity | Freq* | Cont* |
| ALANINE | ALA | A | h | 88.6 | alpha | 8.5 | 3.1 |
| ARGININE | ARG | R | c | 173.4 | | 4.6 | 2.6 |
| ASPARGINE | ASN | N | p | 111.1 | | 4.5 | 2.3 |
| ASPARTIC ACID | ASP | D | c | 114.1 | | 5.9 | 2.0 |
| CYSTEINE | CYS | C | h | 108.5 | S-S bond | 1.7 | 4.4 |
| GLUTAMIC ACID | GLU | E | c | 138.4 | alpha | 6.1 | 2.0 |
| GLUTAMINE | GLN | Q | p | 143.8 | | 3.7 | 2.4 |
| GLYCINE | GLY | G | p | 60.1 | anti-alpha | 8.1 | 2.5 |
| HISTIDINE | HIS | H | h/p/c | 153.2 | metal bind. | 2.3 | 3.1 |
| ISOLUECINE | ILE | I | h | 166.7 | | 5.5 | 4.5 |
| LEUCINE | LEU | L | h | 166.7 | alpha | 8.3 | 4.6 |
| LYSINE | LYS | K | c | 168.6 | | 6.0 | 1.9 |
| METHIONINE | MET | M | h | 162.9 | alpha | 2.1 | 4.2 |
| PHENYLALANINE | PHE | F | h | 189.9 | | 3.9 | 4.5 |
| PROLINE | PRO | P | h | 112.7 | start alpha | 4.7 | 2.4 |
| SERINE | SER | S | p | 89.0 | anti-alpha | 6.2 | 2.4 |
| THREONINE | THR | T | p | 116.1 | | 5.9 | 2.8 |
| TRYPTOPHAN | TRP | W | h/p | 227.8 | | 1.4 | 4.0 |
| TYROSINE | TYR | Y | h/p | 193.6 | anti-alpha | 3.5 | 4.0 |
| VALINE | VAL | V | h | 140.0 | | 7.1 | 4.2 |
* Frequency of occuring [in %] and the averaged number of contacts in the first solvation shell calculated using a combination of Levitt's and SCOP databases derived by Tobi and Elber and composed of 594 representative structures (the total number of residues is equal to 147129 and the cutoff distances were 2.0 < r < 6.4 Ang) database included in the distribution of LOOPP.
---
Side chains:
---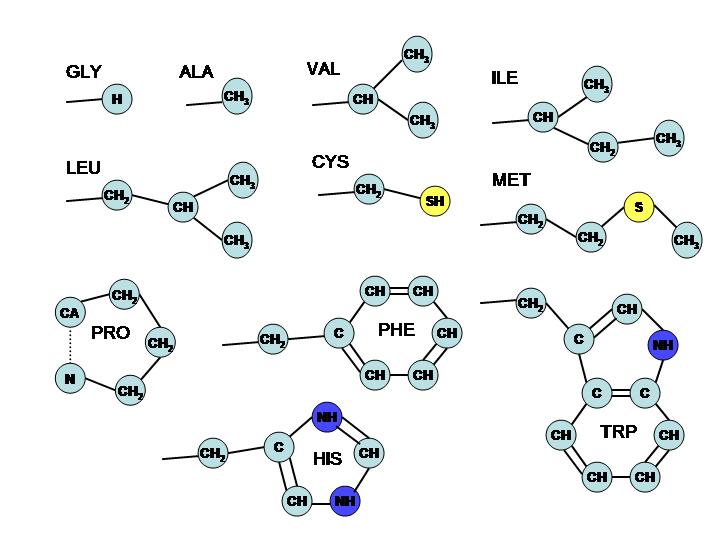 ---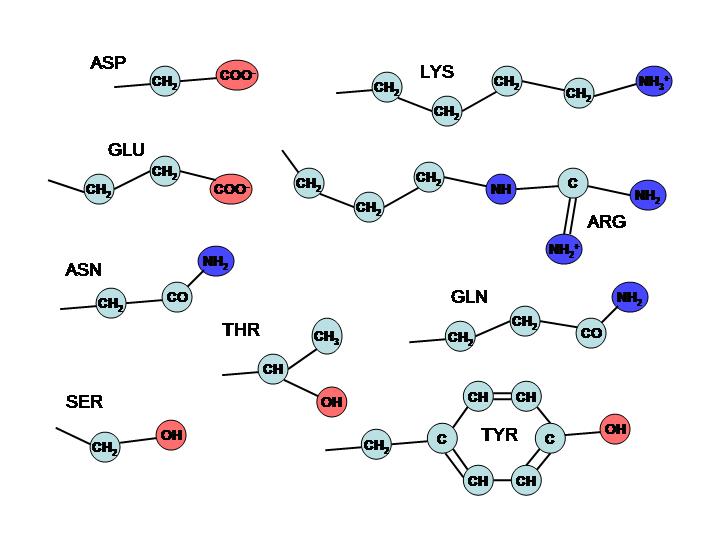 ---
Collection of Rasmol and Molekel images

---
Trp Arg more when I have more time ...
---
Peptide bond
---

Dipeptide: See also a picture with Ala-Gly-His tripeptide

H O R2
| || |
NH3+--Ca -- C -- N -- Ca -- C --O-
| | | \\
R1 H H O

The equilibrium length of the peptide bond (C -- N) is about 2 Ang. The average Ca - Ca distance
in a polypeptide chain is about 3.8 Ang. The angle of rotation around N - Ca bond is called phi, and
the angle around the Ca - C bond is called psi. In polypeptide chain these angles define the overall
conformation of the system - see myoglobin for instance.

---
Author: Jarek Meller
---